The last 24 hours have marked another major waypoint along the path to my long-held contention that Russia, China and Saudi Arabia are going to make a massive, collective push to try and dethrone the U.S. dollar as global reserve currency.
Anybody who has read my 23 Stocks To Watch For 2023 (or any of my other recent articles discussing how I am personally positioning myself for this thesis) knows that I believe we are on the precipice of an unprecedented era geopolitically.
Put simply, I believe there is a historic divide in the making between the BRICS nations, led by Russia and China, and the West, led by the United States.
I was one of the few outlets last summer to even report on the fact that Russia and China openly announced a "new global reserve currency" (announced in July 2022, predicted by me in February 2022). And of course, Russia and China can't do it on their own: they are working with nations like Saudi Arabia and India to help put their plans into practice.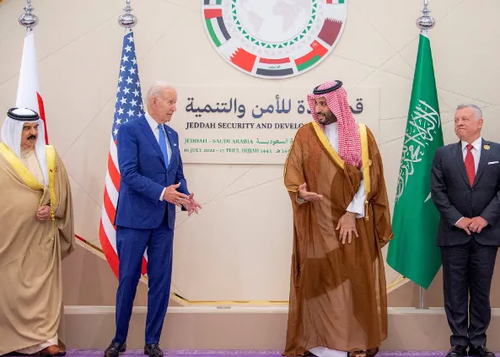 Crucial to dethroning the U.S. dollar would be the removal of its use for buying and selling oil – a system that has been in place since the 1970s when the U.S. promised security for the Saudi Kingdom in exchange for the petrodollar system that underpins the dollar's strength as global reserve currency. It's a topic that I discussed at length back in September with Andy Schectman on this podcast.
Andy told me back in September 2022: "The dollar hegemony is right about ready to break when you realize that Saudi Arabia is about to join the BRIC nations. Do you think Biden is going to fly there to ask for more oil? He went there to beg them not to join BRIC."
"The dollar was made reserve currency only because of our protection of the Saudi kingdom," Andy continued. He then noted astutely that Saudi Arabia had signed new protection agreements with Russia. "All of the Eastern European countries that have repatriated their gold. They're all part of the EU but they all trade their own currency. They're all going to break away from the Western system," he added.
And now it looks like Andy was right: it appears Saudi Arabia has just issued a death knell to the exclusivity of the petrodollar as we once knew it – the first of several dominoes that needs to fall before the U.S. is exposed financially as an emperor with no clothes.
Contributor posts published on Zero Hedge do not necessarily represent the views and opinions of Zero Hedge, and are not selected, edited or screened by Zero Hedge editors.
BY QUOTH THE RAVEN
The opinions expressed by contributors and/or content partners are their own and do not necessarily reflect the views of AC.NEWS
Disclaimer: This article may contain statements that reflect the opinion of the author. The contents of this article are of sole responsibility of the author(s). AC.News will not be responsible for any inaccurate or incorrect statement in this article www.ac.news websites contain copyrighted material the use of which has not always been specifically authorized by the copyright owner. We are making such material available to our readers under the provisions of "fair use" in an effort to advance a better understanding of political, health, economic and social issues. The material on this site is distributed without profit to those who have expressed a prior interest in receiving it for research and educational purposes. If you wish to use copyrighted material for purposes other than "fair use" you must request permission from the copyright owner. Reprinting this article: Non-commercial use OK. If you wish to use copyrighted material for purposes other than "fair use" you must request permission from the copyright owner.
Disclaimer: The information and opinions shared are for informational purposes only including, but not limited to, text, graphics, images and other material are not intended as medical advice or instruction. Nothing mentioned is intended to be a substitute for professional medical advice, diagnosis or treatment.