USA: Missouri State Attorney General Eric Schmitt announced that in a state attorneys general lawsuit against the Biden administration for colluding with Big Tech to censor Americans' speech, the Court has ordered the Department of Justice to produce records from key White House and Health & Human Services officials like Dr. Anthony Fauci, the White House Press Secretary, and others.
More than 50 Biden officials in 12 federal government agencies have been exposed for colluding with Big Tech to censor their political opponents in a major lawsuit filed by state attorneys general.
The state attorneys general in Missouri and Louisiana amended a blockbuster lawsuit filed in May that reveals the extent the Biden White House, Department of State, FBI, and major social media companies colluded to infringe on citizens' free speech rights. The right to fully participate in political debate is a fundamental pillar of America's constitutional system of government.
The lawsuit documents show the government's intent to infringe on Americans' First Amendment Rights and curb their ability to discuss matters of health policy and U.S. elections through social media channels.
In the lawsuit, the state AGs are compelling the Justice Dept. to turn over communications the Biden administration had with Big Tech companies that pertain to matters such as health policy and election interference.
"Yesterday, Missouri Attorney General Eric Schmitt and Louisiana Attorney General Jeff Landry filed a Joint Statement on Discovery Disputes, asking the Louisiana District Court to compel the Department of Justice to turn over communications between high-ranking Biden Administration officials from the White House, Department of State, FBI and others and major social media companies," a joint statement on Thursday noted. "The Department of Justice has already turned over communications between a number of federal officials and social media companies but has refused to provide communications between top-ranking officials and social media companies."
"*" indicates required fields
The lawsuit would focus on the widespread and coordinated "censorship enterprise" to rig U.S. elections. It comes in the aftermath of revelations that Facebook/Meta CEO Mark Zuckerberg was approached by the FBI to suppress the Hunter Biden story.
"The communications already provided by the Department of Justice to the plaintiff states show, as the joint statement points out, a vast 'Censorship Enterprise' across a multitude of federal agencies. In response to Missouri and Louisiana's interrogatories, defendants identified 45 federal officials at DHS, CISA, the CDC, NIAID, and the Office of the Surgeon General (all of which are contained in either DHS or HHS) that communicate with social media platforms about 'misinformation' and censorship," the AGs note.
"Meta, for example, has disclosed that at least 32 federal officials—including senior officials at the FDA, the U.S. Election Assistance Commission, and the White House—have communicated with Meta about content moderation on its platforms, many of whom were not disclosed in response to Plaintiffs' interrogatories to Defendants," the statement added. "YouTube disclosed eleven federal officials engaged in such communications, including officials at the Census Bureau and the White House, many of whom were also not disclosed by Defendants."
The joint statement by the attorneys general then names the agencies that are targeted by the lawsuit for further transparency on their unconstitutional activities.
"The discovery provided so far demonstrates that this Censorship Enterprise is extremely broad, including officials in the White House, HHS, DHS, CISA, the CDC, NIAID, and the Office of the Surgeon General; and evidently other agencies as well, such as the Census Bureau, the FDA, the FBI, the State Department, the Treasury Department, and the U.S. Election Assistance Commission. And it rises to the highest levels of the U.S. Government, including numerous White House officials. Defendants have objected to producing some of the most relevant and probative information in their possession," the AGs add.
In addition to the examples cited in the joint statement, Missouri Attorney General Eric Schmitt on Twitter provided numerous disturbing examples from the U.S. government's censorship campaign, as follows:
A senior FB official sent an email to the Surgeon General stating, "I know our teams met today to better understand the scope of what the White House expects from us on misinformation going forward." This email chain follows the SG's "misinformation health advisory" in July 2021.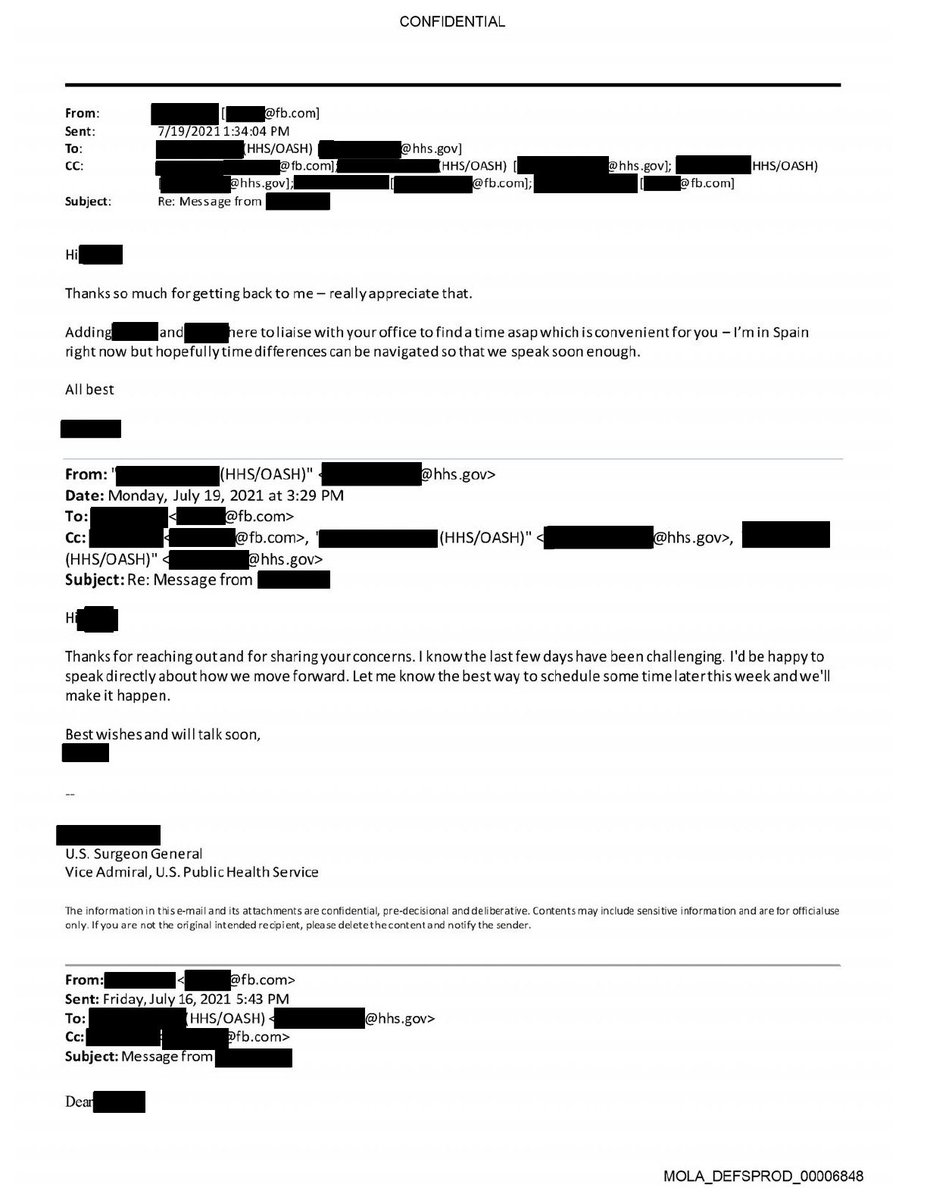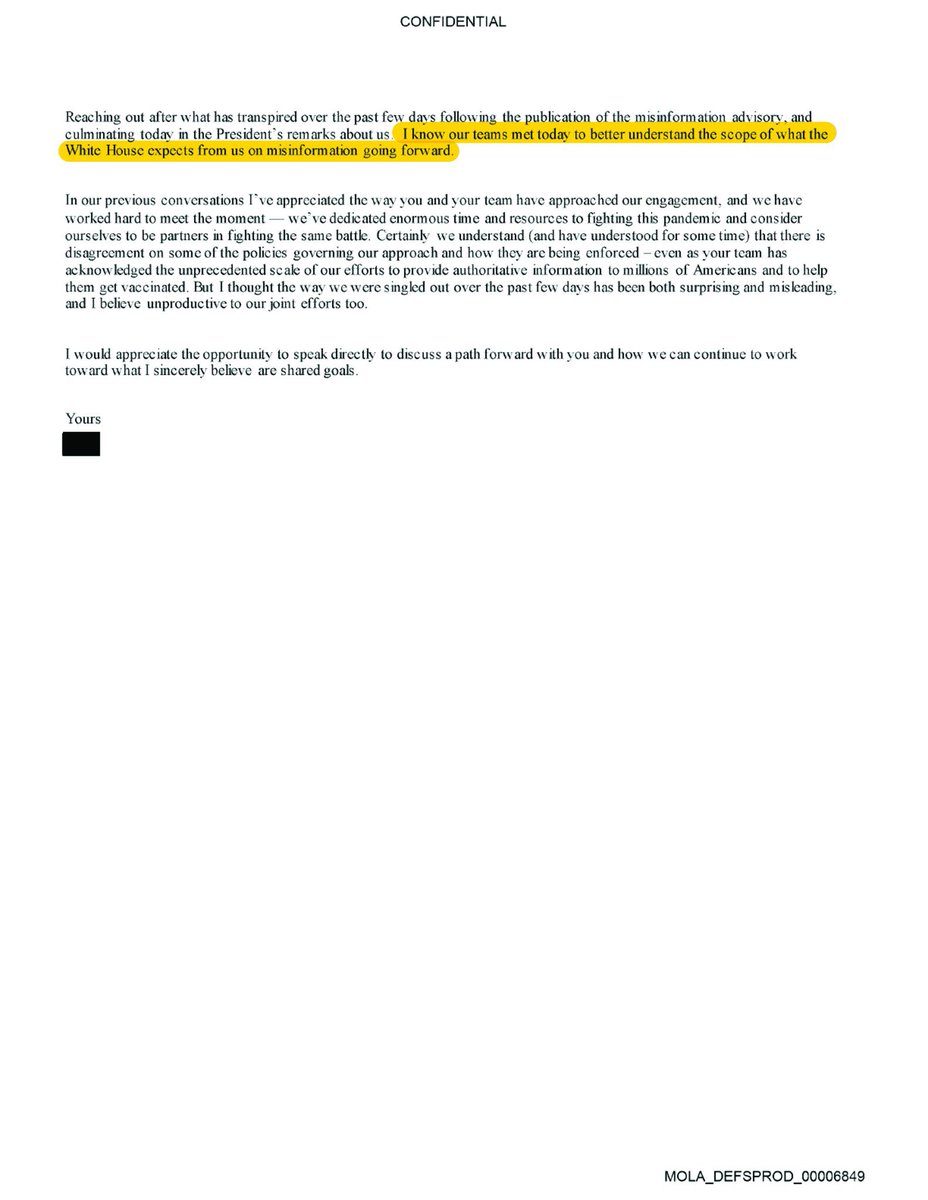 The same senior official sent a later email to HHS and noted, "Thanks again for taking the time to meet earlier today." Then, the official continued to discuss how Facebook is taking even more steps to censor freedom of speech (ago.mo.gov/docs/default-s…)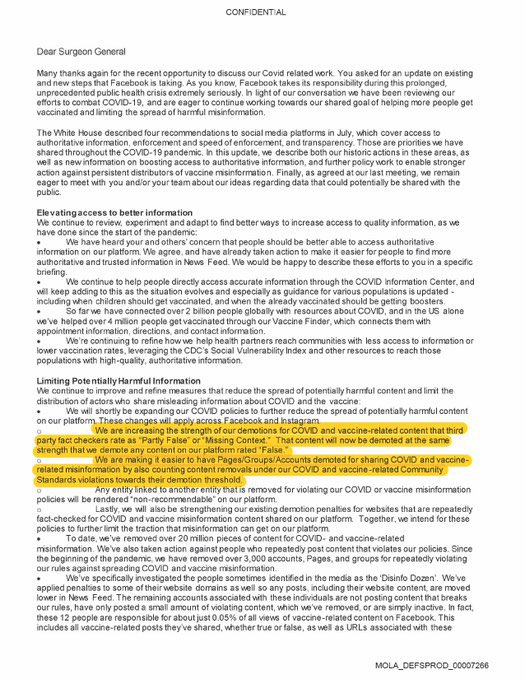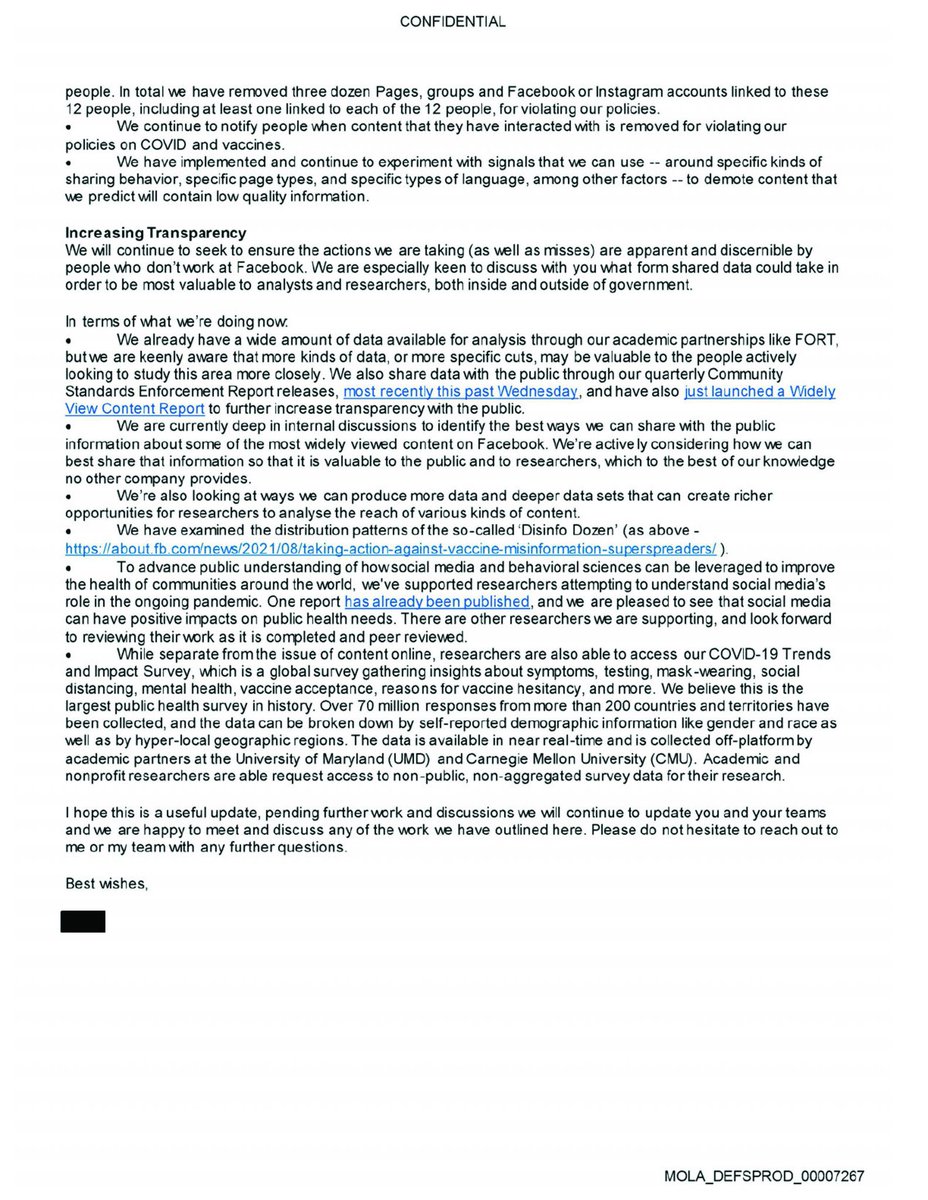 Further communications show that Facebook is "increasing the strength of our demotions for COVID and vaccine-related content that third party fact checkers rate as 'Partly False' or 'Missing Context.'
That content will now be demoted at the same strength that we demote any content on our platform rated 'False.'"
Twitter scheduled a meeting to debrief top White House Officials on "vaccine misinformation."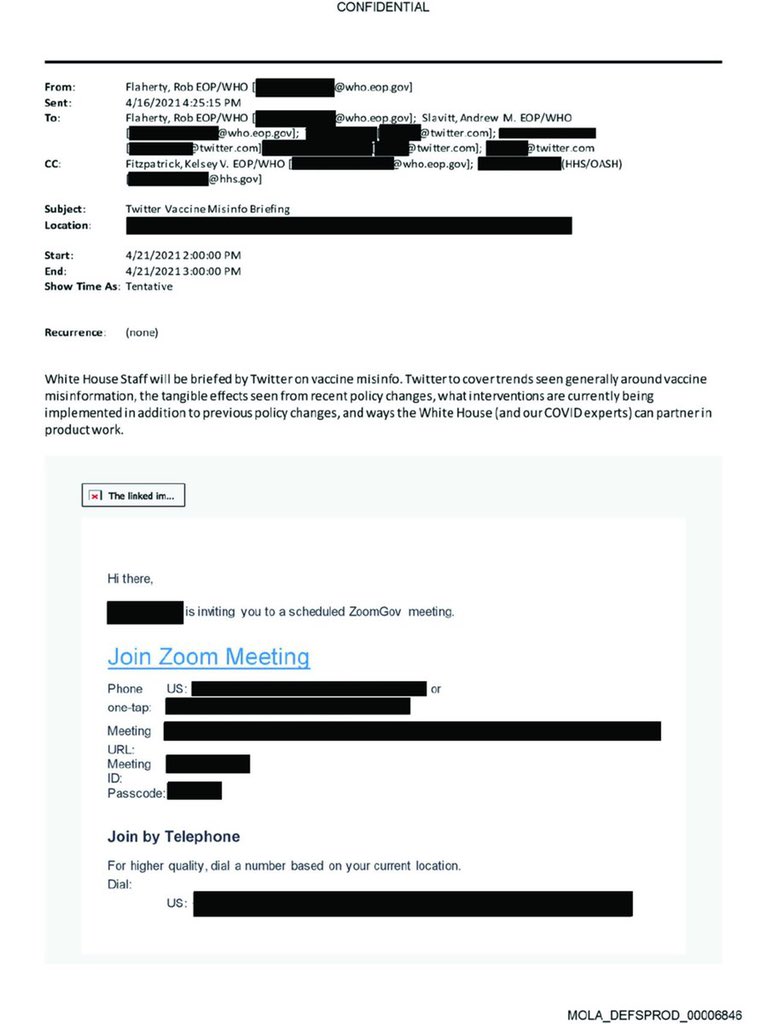 There are several instances where Facebook wouldn't proceed with censoring freedom of speech on their platform until they had input, or a "debunking" from the CDC. Twitter followed the same course in at least one email.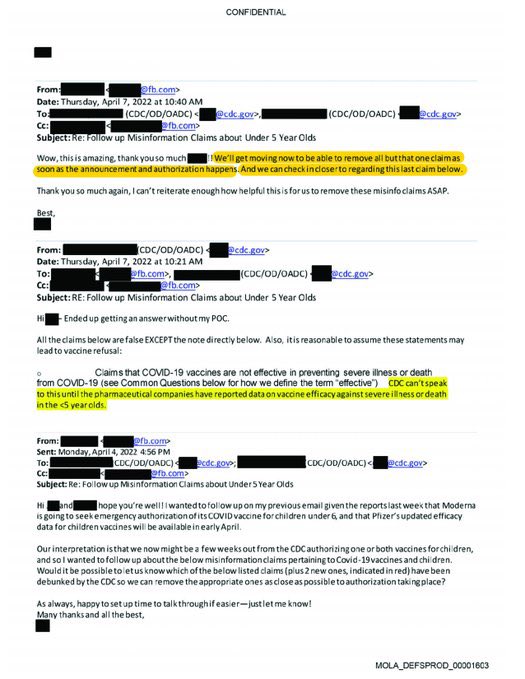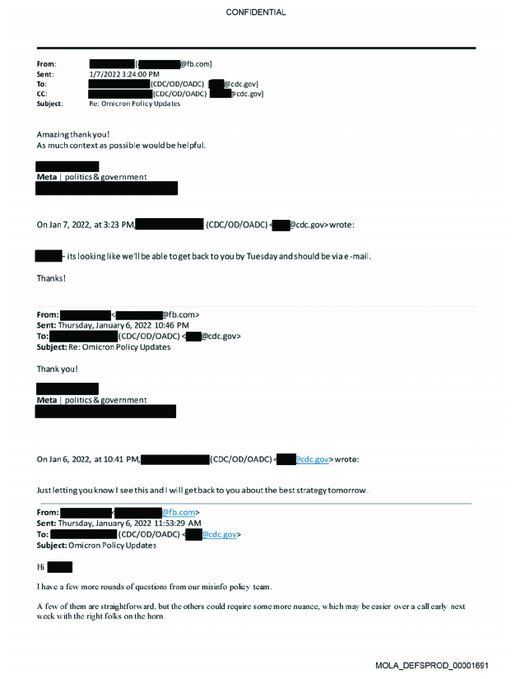 The CDC also proposed a monthly debunking meeting with Facebook to help them censor free speech as well as regular "Be on the Lookout" calls with major social media outlets.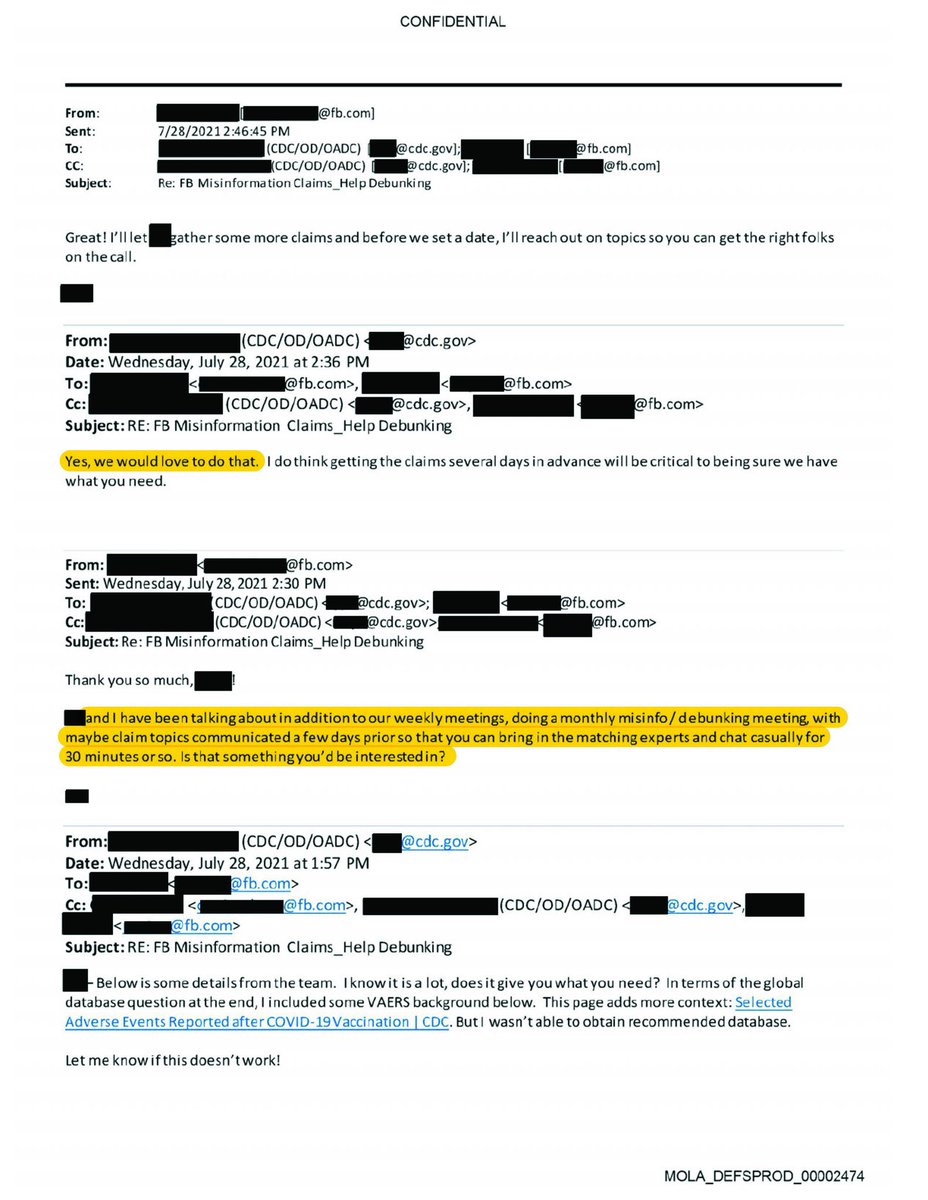 A White House official was even concerned about parody Fauci accounts and coordinated with Facebook to take them down.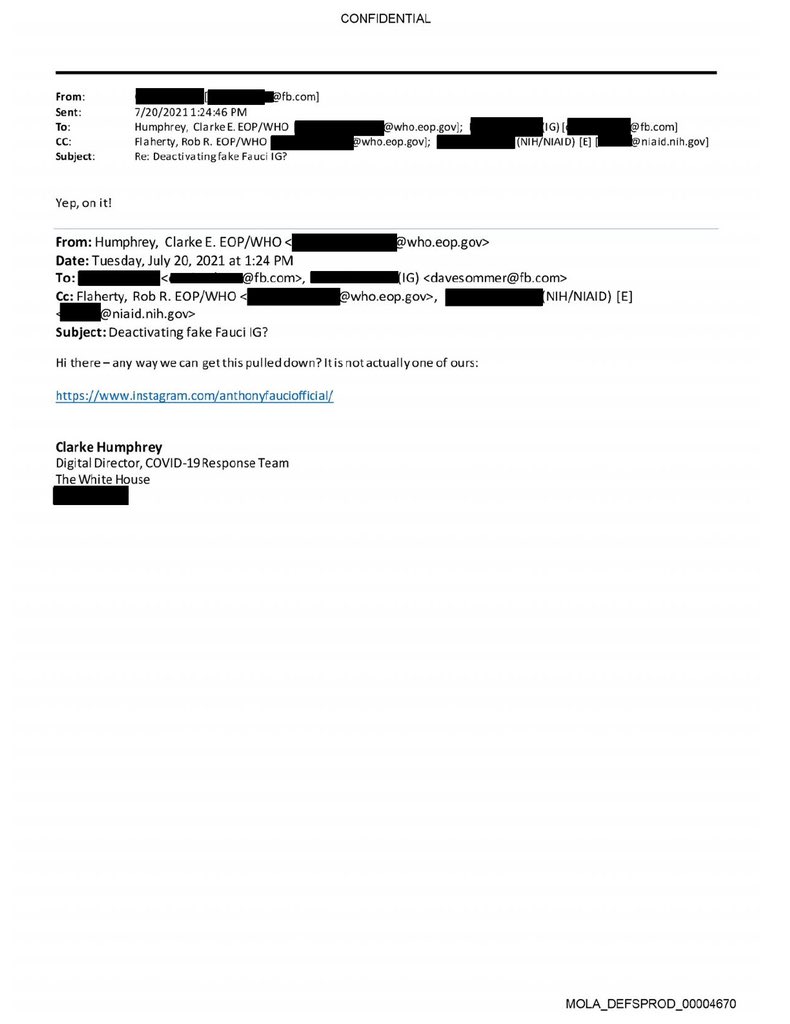 The Cybersecurity and Infrastructure Security Agency (CISA) reached out to Twitter, Google, Meta, and Microsoft following the botched rollout of DHS' Disinformation Governance Board: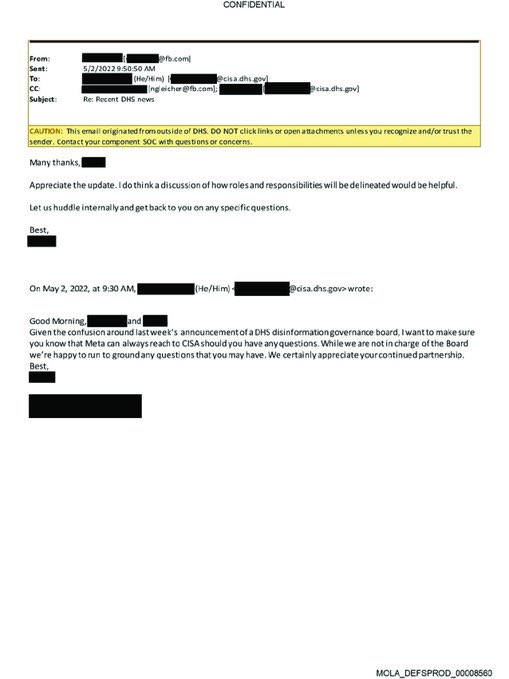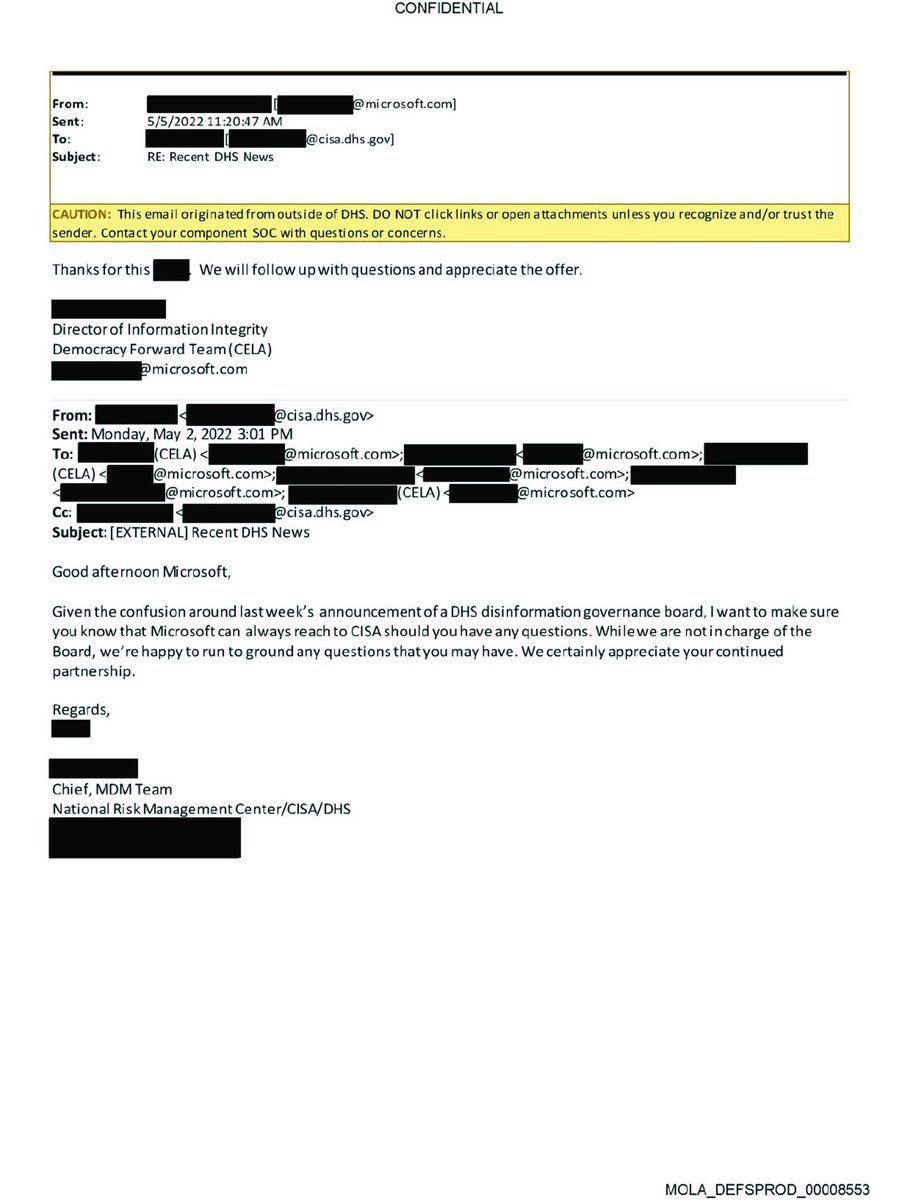 The Deputy Secretary at Treasury sought to connect with social media platforms and influence operations on social media.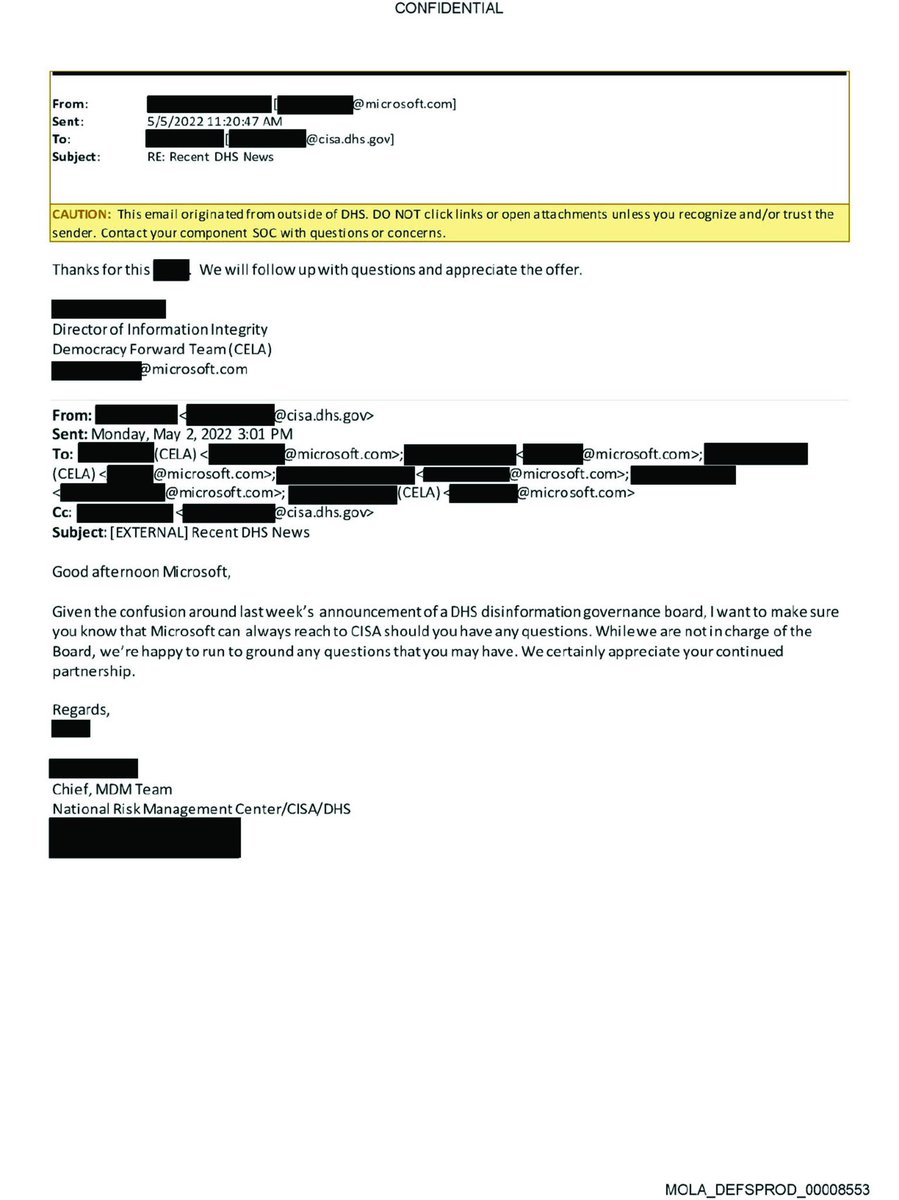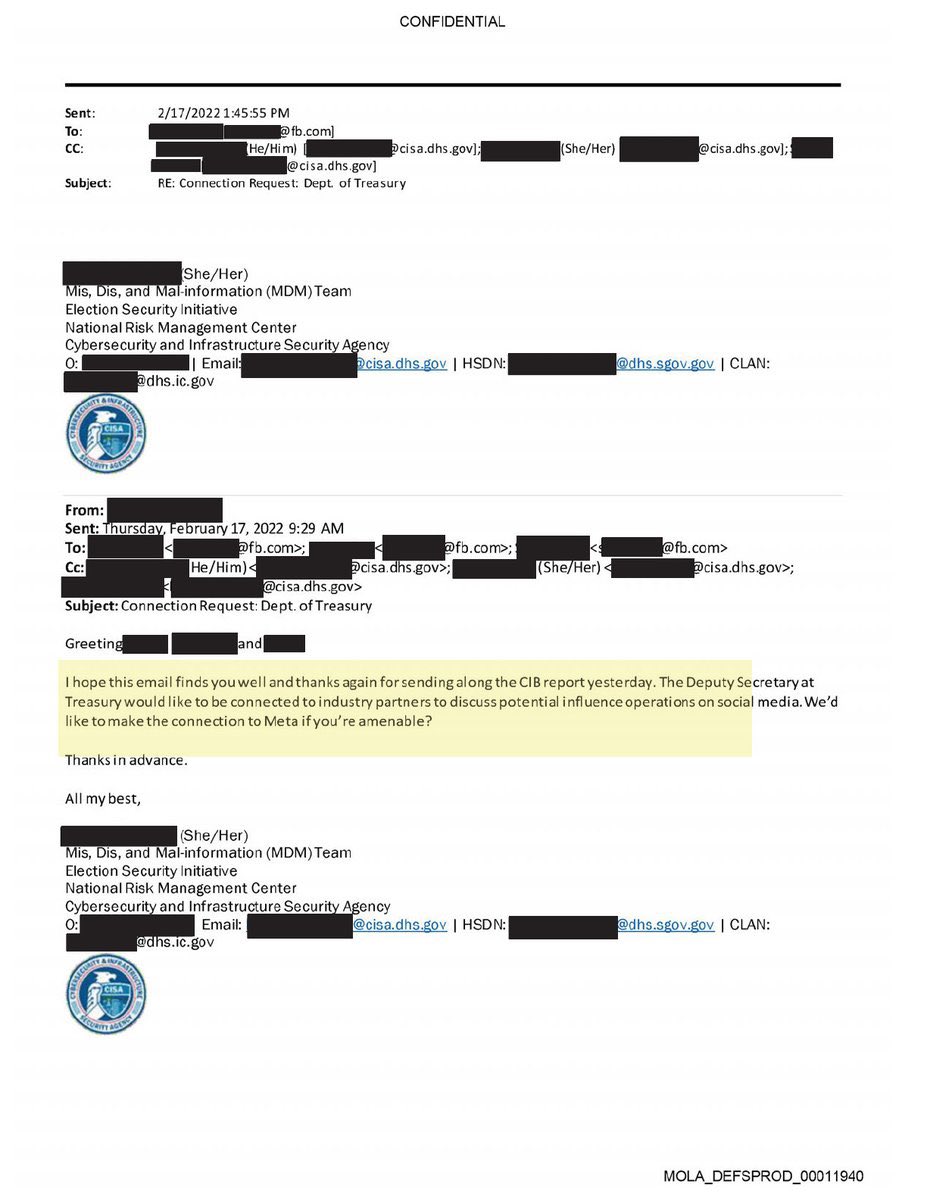 Big Tech employees may have believed they were giving themselves 'cover' for censoring and suppressing users. But what they really did was document a chain of evidence proving the Biden administration violated Americans' First Amendment rights.
The opinions expressed by contributors and/or content partners are their own and do not necessarily reflect the views of AC.NEWS
Disclaimer: This article may contain statements that reflect the opinion of the author. The contents of this article are of sole responsibility of the author(s). AC.News will not be responsible for any inaccurate or incorrect statement in this article www.ac.news websites contain copyrighted material the use of which has not always been specifically authorized by the copyright owner. We are making such material available to our readers under the provisions of "fair use" in an effort to advance a better understanding of political, health, economic and social issues. The material on this site is distributed without profit to those who have expressed a prior interest in receiving it for research and educational purposes. If you wish to use copyrighted material for purposes other than "fair use" you must request permission from the copyright owner. Reprinting this article: Non-commercial use OK. If you wish to use copyrighted material for purposes other than "fair use" you must request permission from the copyright owner.
Disclaimer: The information and opinions shared are for informational purposes only including, but not limited to, text, graphics, images and other material are not intended as medical advice or instruction. Nothing mentioned is intended to be a substitute for professional medical advice, diagnosis or treatment.