It's been quite a day in Atlanta (and for scrambling Democrats) as former President Trump was indicted for the 4th time.
The events (detailed below) are summarized here in chronological order:
Before the Grand Jury's verdict, Reuters reported that a document was leaked earlier in the day on the Fulton County, Georgia court's website showing former president Trump being indicted on RICO charges (among many others).
The Georgia DA released a statement calling the document "fictitious".
Trump's team (and the entire internet) mocked this farcical comment: "This was not a simple administrative mistake."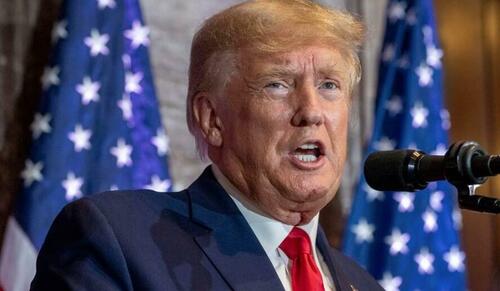 The Grand Jury then handed down a 98-page indictment, against the former president (the jurors' names were unredacted)…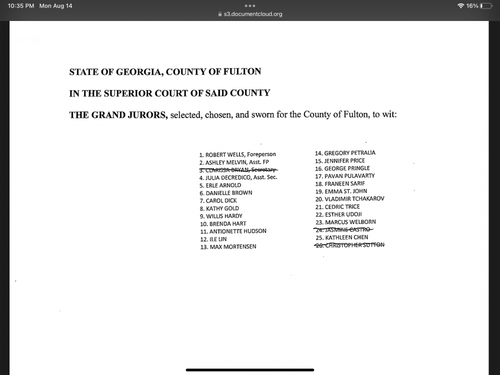 …claiming that he – and 18 of his allies – orchestrated a sweeping criminal enterprise, committing more than a dozen felonies, as he tried and failed to overturn his defeat in Georgia's 2020 election.
Defendants include Rudy Giuliani, Mark Leadows, Sidney Powell, and John Eastman.
The charging documents also list 30 unindicted co-conspirators.
Trump faces 13 counts in the indictment. Here is the full list:
One count in violation of the Georgia Racketeer Influenced and Corrupt Organizations Act
Three counts of solicitation of violation of oath by public officer
One count of conspiracy to commit impersonating a public officer
Two counts of conspiracy to commit forgery in the first degree
Two counts of conspiracy to commit false statements and writings
One count of conspiracy to commit filing false documents
One count of filing a false document
Two counts of false statements and writings
All of these charges were exactly as per the leaked "fictitious" document that was found on the courthouse website hours before the Grand Jury's decision.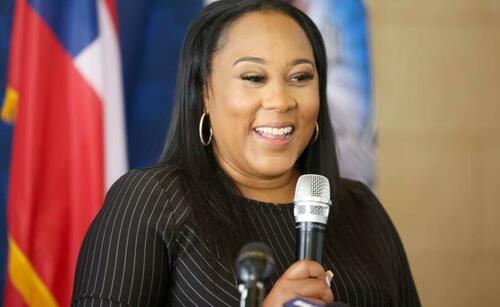 The Trump team issued a statement blasting the Georgia DA as a "rabid partisan", adding that "all of these corrupt Democrat attempts will fail."
Statement from the Trump Campaign

Like Manhattan DA Alvin Bragg, Deranged Jack Smith, and New York AG Letitia James, Fulton County, GA's radical Democrat District Attorney Fani Willis is a rabid partisan who is campaigning and fundraising on a platform of prosecuting President Trump through these bogus indictments. Ripping a page from Crooked Joe Biden's playbook, Willis has strategically stalled her investigation to try and maximally interfere with the 2024 presidential race and damage the dominant Trump campaign. All of these corrupt Democrat attempts will fail.

Combined with the intentionally slow-walked investigations by the Biden-Smith goon squads and the false charges in New York, the timing of this latest coordinated strike by a biased prosecutor in an overwhelmingly Democrat jurisdiction not only betrays the trust of the American people, but also exposes true motivation driving their fabricated accusations.

They could have brought this two and half years ago, yet they chose to do this for election interference reasons in the middle of President Trump's successful campaign. He is not only leading all Republicans by a lot but he is leading against Joe Biden in almost every poll. President Trump represents the greatest threat to these Democrats' political futures (and the greatest hope for America).

The legal double-standard set against President Trump must end. Under the Crooked Biden Cartel, there are no rules for Democrats, while Republicans face criminal charges for exercising their First Amendment rights.

These activities by Democrat leaders constitute a grave threat to American democracy and are direct attempts to deprive the American people of their rightful choice to cast their vote for President. Call it election interference or election manipulation—it is a dangerous effort by the ruling class to suppress the choice of the people. It is un-American and wrong.

They are taking away President Trump's First Amendment right to free speech, and the right to challenge a rigged and stolen election that the Democrats do all the time. The ones who should be prosecuted are the ones who created the corruption.

President Trump will never give up and will never stop fighting for you, as we all work to Make America Great Again in 2024.
Read the full indictment below:
Liberals everywhere…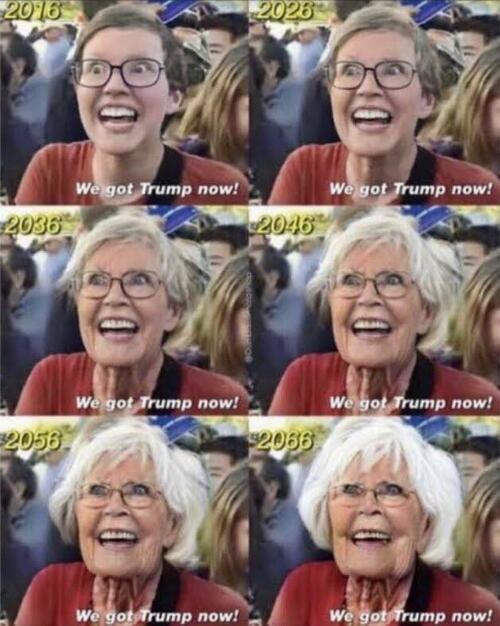 *  *  *
Update (2033ET): A grand jury in Atlanta handed in an indictment late Monday related to a Georgia prosecutor's investigation into former President Trump's alleged efforts to overturn the state's 2020 election results.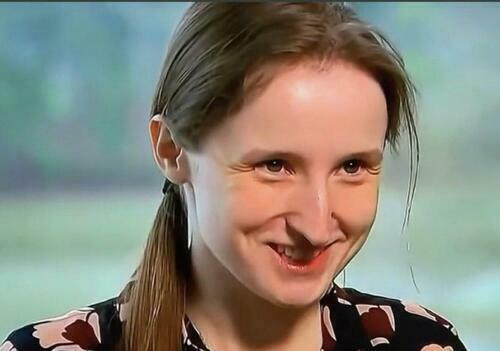 The details were not immediately clear, but we know what's coming.
The full indictment is expected to be released later this evening.
Emily khors is the forewoman of the Trump grand jury and she's an absolute lunatic. She must think she's the lead role in her head. pic.twitter.com/67DDzPmN83

— Stephan (@itoldyaso88) February 22, 2023
Never forget – President Trump was leading Biden by 160,000+ votes on election night

Then a "water pipe burst" forcing GOP poll watchers out of the Atlanta counting center while Democrat criminals pulled out suitcases of ballots & ran them through the machines for hours… pic.twitter.com/f3PUuEiU1f

— DC_Draino (@DC_Draino) August 15, 2023
Another day, another indictment.

No amount of indictments will explain how 80%+ of bellwether counties voted for Trump yet Biden won (something that has never happened before).

No amount of indictments will explain how a presidential candidate could have such a strong lead and… pic.twitter.com/EU5dq48hZQ

— Collin Rugg (@CollinRugg) August 15, 2023
*  *  *
Update (1830ET): Attorneys for Donald Trump on Monday criticized the Georgia Fulton County District Attorney's Office over a report that a document listing criminal charges against the former president was briefly posted earlier in the day, then abruptly taken down.
"The Fulton County District Attorney's Office has once again shown that they have no respect for the integrity of the grand jury process," attorneys Drew Findling and Jennifer Little said in a statement issued by the Trump campaign.

"This was not a simple administrative mistake," the attorneys added.

"A proposed indictment should only be in the hands of the District Attorney's Office, yet it somehow made its way to the clerk's office and was assigned a case number and a judge before the grand jury even deliberated. This is emblematic of the pervasive and glaring constitutional violations which have plagued this case from its very inception."
*  *  *
Update (1820ET): Fulton County's Office of the Court Clerk has issued a statement claiming that the RICO docket against former President Trump which was posted to their portal and subsequently deleted – and which was tweeted and reported on first by Reuters (along with a link to the Court's portal), was "fictitious."
🚨 #BREAKING: The Fulton County, GA Clerk of Courts has released a statement claiming the document outlining the charges against President Trump that was posted on their website—and subsequently DELETED after it was reported on by Reuters—is a FAKE.

WHAT IS GOING ON HERE? pic.twitter.com/jRErmhUjKX

— Nick Sortor (@nicksortor) August 14, 2023
The statement reads:
Special Purpose Grand Jury Update The Office of the Fulton County Clerk of Superior and Magistrate Courts has learned of a fictitious document that has been circulated online and reported by various media outlets related to The Fulton County Special Purpose Grand Jury.

While there have been no documents filed today regarding such, all members of the media should be reminded that documents that do not bear an official case number, filing date, and the name of The Clerk of Courts, in concert, are not considered official filings and should not be treated as such.

Media members can expect to be notified of any/all filings in real time and will be provided access to filings via equitable communication.

As the official custodian of various county records, the Clerk of Courts understands the sensitivity of all court filings, especially those that arc at the forefront of the national spotlight and remains committed to operating with an extreme level of efficiency, accuracy, and transparency.
Hmm:
Loos like case number and date to me. Hmmm pic.twitter.com/JNXcVAzPjo

— Jackie 🇺🇸 (@Jackie9900) August 14, 2023
In an earlier statement, the court said: "The Reuters report that those charges were filed is inaccurate. Beyond that we cannot comment," said a spokesperson for the District Attorney's office, which stated that no charges had been filed against Trump.
I hate it when fictitious legal documents get posted to my government website.

— Jeremiah (@jeremiahbnewell) August 14, 2023
*  *  *
Former President Donald Trump is apparently going to be indicted under the RICO (Racketeer Influenced And Corrupt Organizations Act) statute, according to a document which was briefly posted on the Fulton County, Georgia court's website.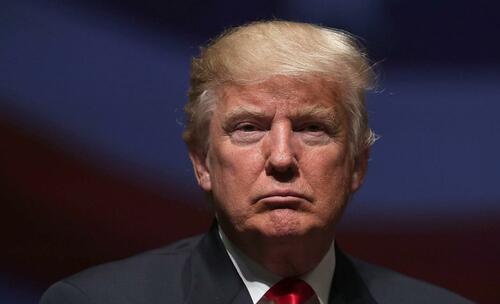 The document, dated Aug. 14 and titled "Trump" cites the case as "open."
It was quickly taken down: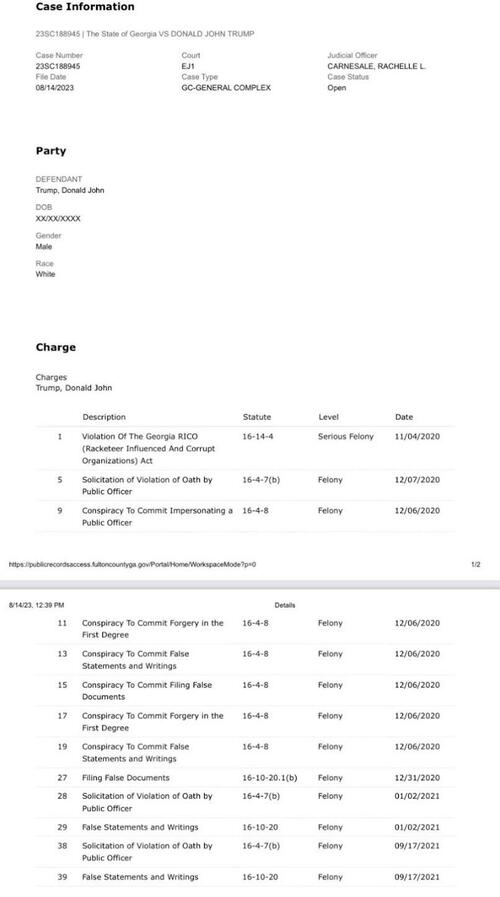 As Bloomberg noted earlier, the Fulton County case will likely echo allegations in the indictment of Trump in Washington, brought by Special Counsel Jack Smith. Trump is accused in that case of trying to overturn the 2020 election nationwide, and his actions in Georgia feature prominently in the alleged conspiracy.
Sounds legit

— KanekoaTheGreat (@KanekoaTheGreat) August 14, 2023
District Attorney Fani Willis, a Democrat who took office days before the Jan. 6, 2021, attack on the US Capitol, had extensive details on Trump's actions in Georgia when she opened her probe in February 2021. Those details included Trump's effort to pressure Raffensperger, asking him and others to "find" just enough votes to overcome his loss, even though a recount had already been conducted.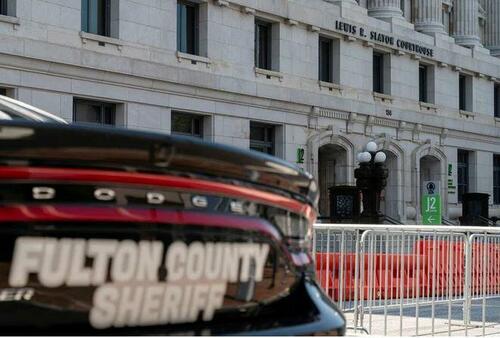 Willis has a history of prosecuting cases – from teachers to rap music stars – under Georgia's version of the federal Racketeer Influenced and Corrupt Organization act, or RICO – a statute often associated with organized crime. She may use the law against Trump and allies as well.
Meanwhile, the streets around the Fulton County courthouse in Atlanta were lined with orange barricades in anticipation of potential civil unrest over the indictment. Armed sheriff's deputies are also patrolling the area 24/7, while vehicles from several law enforcement agencies lined the streets.
Security measures extended blocks away to the Georgia State Capitol, where the street nearest the entrance was sealed off. The gold-domed building was devoid of tourists and many staffers were working from home amid renovations. At nearby City Hall, no one was seen entering or leaving the building in the middle of a workday, though the office of Atlanta Mayor Andre Dickens said city's headquarters is "open for business."

One sheriff's deputy standing guard said he'd never seen such an extensive security operation in 30 years on the job. The officer said one priority will be protecting protesters who may clash with each other if Trump appears in court. –Bloomberg
According to Bloomberg, DA Fani Willis is expected to present the case to a grand jury as soon as the coming week.
Trump is accused of trying to goad Georgia officials into 'finding' votes for him (when, in context, Trump was implying they were hiding votes). Trump has denied wrongdoing.
Reminder:
This was the foreperson of the Grand Jury that investigated Donald Trump in Georgia: pic.twitter.com/UEZCTKKVaK

— ALX 🇺🇸 (@alx) February 22, 2023
by Tyler Durden
The opinions expressed by contributors and/or content partners are their own and do not necessarily reflect the views of AC.NEWS
Disclaimer: This article may contain statements that reflect the opinion of the author. The contents of this article are of sole responsibility of the author(s). AC.News will not be responsible for any inaccurate or incorrect statement in this article www.ac.news websites contain copyrighted material the use of which has not always been specifically authorized by the copyright owner. We are making such material available to our readers under the provisions of "fair use" in an effort to advance a better understanding of political, health, economic and social issues. The material on this site is distributed without profit to those who have expressed a prior interest in receiving it for research and educational purposes. If you wish to use copyrighted material for purposes other than "fair use" you must request permission from the copyright owner. Reprinting this article: Non-commercial use OK. If you wish to use copyrighted material for purposes other than "fair use" you must request permission from the copyright owner.
Disclaimer: The information and opinions shared are for informational purposes only including, but not limited to, text, graphics, images and other material are not intended as medical advice or instruction. Nothing mentioned is intended to be a substitute for professional medical advice, diagnosis or treatment.