Former President Donald Trump on Tuesday praised the Nigerian government's decision to block access to Twitter, and called on other countries to do the same.
Trump applauded the Nigerian government's move to indefinitely suspend Twitter's activities, two days after the social media giant removed a post by Nigerian President Muhammadu Buhari that threatened to punish regional secessionists in the West African country.
"Congratulations to the country of Nigeria, who just banned Twitter because they banned their President," Trump said in a statement.

"More COUNTRIES should ban Twitter and Facebook for not allowing free and open speech—all voices should be heard."
"In the meantime, competitors will emerge and take hold," Trump continued.
"Who are they to dictate good and evil if they themselves are evil?"
The former president suggested that the reason why he didn't ban Facebook while he was in office was because Facebook CEO Mark Zuckerberg "kept calling me and coming to the White House for dinner telling me how great I was."
"2024?" Trump added, teasing a potential presidential run.
The former president hosted Zuckerberg at the White House twice in 2019. Earlier this month, Trump again hinted at a possible run for the presidency while responding to the news that he'll be banned from Facebook for two years, saying he won't attend dinners requested by Zuckerberg "next time I'm in the White House."
The former president has been banned from Facebook until 2023, and he has also been permanently removed from Twitter following the Jan. 6 Capitol breach.
Nigeria's Information Minister Lai Mohammed said the government had blocked Twitter access because of "the persistent use of the platform for activities that are capable of undermining Nigeria's corporate existence."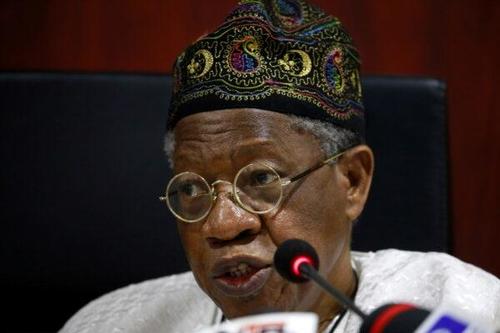 Nigeria's Information Minister Lai Mohammed speaks during a news conference in Abuja, Nigeria, on Nov. 19, 2020. (Afolabi Sotunde/Reuters)
by Tyler Durden