Ukrainian forces are being offered unsolicited advice on wartime strategies now by The New York Times, apparently, while also being thrown under the bus. On Tuesday the below headline appeared at the top of the NYT's frontpage…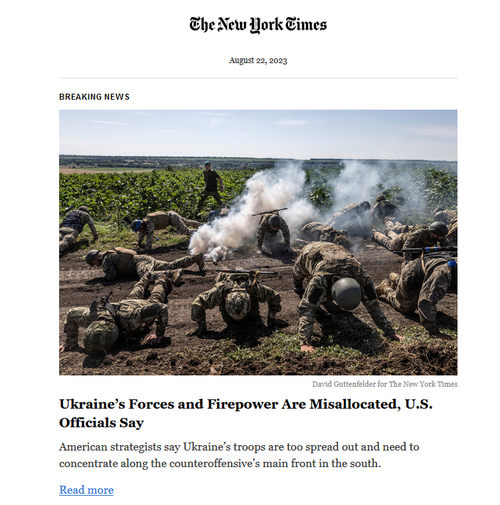 Mainstream media has very quickly, in a span of two months, gone from euphoric "Ukraine is winning" & "Putin's demise imminent" statements, to now trying to explain just how it is that Kiev's counteroffensive is in shambles, despite billions in Western military hardware. Who's to blame?
Indeed the how did things go wrong in Ukraine script is already being written. The Times, citing US officials, complains that Ukraine commanders just aren't doing it "right"—and pursuing a failing strategy:
Ukraine's grinding counteroffensive is struggling to break through entrenched Russian defenses in large part because it has too many troops, including some of its best combat units, in the wrong places, American and other Western officials say.

The main goal of the counteroffensive is to cut off Russian supply lines in southern Ukraine by severing the so-called land bridge between Russia and the occupied Crimean Peninsula. But instead of focusing on that, Ukrainian commanders have divided troops and firepower roughly equally between the east and the south, the U.S. officials said.
In early August, the same publication began setting up what are actually at this point largely untrained Ukrainian frontline forces to take the fall: "Ukraine's army has for now set aside U.S. fighting methods and reverted to tactics it knows best"… with the implication being that if there are major battlefield losses, it's not the fault of US advisers.
Months before that, in March, The Washington Post ran the following headline: "Ukraine short of skilled troops and munitions as losses, pessimism grow."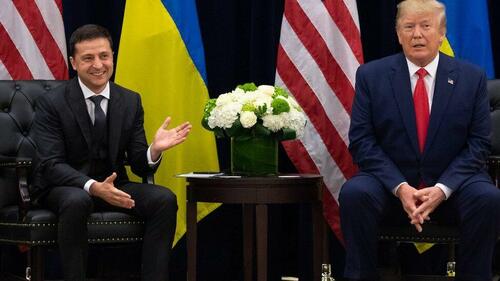 But also more importantly, just this week, Politico has chimed in with what's likely to take shape as the next MSM consensus: it will be Trump's fault if (or when) the Ukrainians lose. Looking ahead to a possible 2024 victory and return to the White House, Politico sets up Trump to take the fall in the following:
This sense that Ukrainians need to take the initiative at home both by scouring the global arms bazaar for hi-tech gizmos and by making more of their own heavy armor and shells is only amplified by the looming threat of a return to the White House by Donald Trump, who argues that America should not be "sending very much" to Ukraine and that Kyiv should sue for peace with the invader.

Other Republican candidates have only heightened Ukrainians' fears that the next U.S. president could sell out their young democracy to the Kremlin.
FOX too, commenting on the same report, says, "With the possibility of Trump, the current GOP presidential front-runner, returning to office after the 2024 election, Ukrainians are preparing for reduced weapons supplies from the U.S..." And currently, continues Fox, "More than 100 companies are among the Ukrainian arms producers actively working to acquire mostly Chinese-made drone parts from middlemen or third countries, as Beijing has said it halted all direct sales of the weapons to both Kyiv and Moscow's forces."
Foreign assistance will always be vital to Ukraine's war effort.

But with the looming threat of a second Donald Trump presidency, Ukrainians are increasingly taking matters into their own hands when it comes to weapons supply.https://t.co/pzGbZrr02s

— POLITICOEurope (@POLITICOEurope) August 21, 2023
…So there it is: the American public is being told ahead of time who to blame for what's increasingly looking like the inevitable rout of Ukrainian forces, despite the entirety of this – and tens of billions in taxpayer dollars spent – being Biden's baby, or the defining foreign policy event of his presidency.
Meanwhile, the White House wants to prevent the "stalemate" label from taking hold. "We do not assess that the conflict is a stalemate," US National Security Advisor Jake Sullivan said in a Tuesday briefing with reporters.
In just 18 months, more Ukrainian troops have been killed **than the number of all US troops killed during the entire Vietnam war.**

Yet look at this statement about the view of US war planners regarding Ukraine and draw your own conclusions:https://t.co/B8GEMjsqPX. pic.twitter.com/9TLuNKTCJc

— Glenn Greenwald (@ggreenwald) August 21, 2023
"There is attacking and defending taking place on both sides at multiple points along a very extended front line of trace," Sullivan added. "And it is true that the Russians have been attacking up in the northeast. It is also true that the Ukrainians have been defending up in the northeast quite effectively."
According to the disjointed talking points out of the White House and the mainstream media of late, Ukraine is either 'not losing' or 'not winning' or at least 'not a stalemate'—but there's one thing they will be able to agree on: blame Trump.
by Tyler Durden
The opinions expressed by contributors and/or content partners are their own and do not necessarily reflect the views of AC.NEWS
Disclaimer: This article may contain statements that reflect the opinion of the author. The contents of this article are of sole responsibility of the author(s). AC.News will not be responsible for any inaccurate or incorrect statement in this article www.ac.news websites contain copyrighted material the use of which has not always been specifically authorized by the copyright owner. We are making such material available to our readers under the provisions of "fair use" in an effort to advance a better understanding of political, health, economic and social issues. The material on this site is distributed without profit to those who have expressed a prior interest in receiving it for research and educational purposes. If you wish to use copyrighted material for purposes other than "fair use" you must request permission from the copyright owner. Reprinting this article: Non-commercial use OK. If you wish to use copyrighted material for purposes other than "fair use" you must request permission from the copyright owner.
Disclaimer: The information and opinions shared are for informational purposes only including, but not limited to, text, graphics, images and other material are not intended as medical advice or instruction. Nothing mentioned is intended to be a substitute for professional medical advice, diagnosis or treatment.