The Cabala (Satanism) is the Ideology of the Illuminati
The "antisemitism" smear diverts attention from the grim reality – the hate actually emanates from Cabalist Jews and their Freemason agents in the form of a simultaneous attack on our gender, racial, religious and national identity. This hate now finds expression in the pandemic psy op and killer vaccines.
Jew or not, if you are not an "antisemite" in the sense of opposing this diabolical agenda, you are a dupe who will pay dearly for your conformity & ignorance.
Ted Pike, 74, has performed a heroic service to humanity through a 30-year mission career. In 1988, he sent 15,000 copies of this book to Christian evangelists, thanks to the generosity of an anonymous donor. He was instrumental in preventing hate laws to be passed in the 1990's with 750 radio broadcasts. His video Zionism & Christianity-Unholy Alliance is key to understanding our world. An artist and sculptor, he is currently engaged in a project to demonstrate the hand of God in nature, specifically birds and animals.  He regards Donald Trump as a fraud. This book can be purchased by sending $24.95 to Ted Pike PO Box 828 Clackamas OR 97015 
I urge you to read Ted Pike's Israel: Our Duty…Our Dilemma (1984) to fully understand the danger in which humanity finds itself today. The essential teaching of Judaism's most holy book, the Cabala, is that non-Jews form an impediment to progress and must be subjugated or exterminated. This ideology probably explains much of mankind's tragic history and impending doom.
(Right, Ted, no relation to Albert Pike)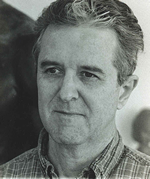 Only "religious" Jews are aware of this agenda but they are very much in control of the West through their control of the banking system and Freemasonry. The fact that Trump is surrounded by these Jews, and constantly makes Masonic hand signs, suggests that his opposition to globalism is a distraction from his real mission, unleashing Armageddon on the goyim.  Of course, we all hope this is not so.
Few people take the time to read the Cabala. Ted Pike did and outlined his findings in Chapter 12, The Conspiracy of the Kabbalah." (110-123)
The Cabala is "an attempt by the Pharisees and their descendants to wrest control of this world from God and give it to themselves."
This is the definition of Satanism – supplanting God. Judaism at its Cabalist heart is Satanism. That's why you don't have to believe in God to follow Judaism.
GOYIM HATRED