WORLD : Moderna is finally coming clean in admitting that their mRNA COVID-19 "vaccine" causes cancer. There are billions of DNA fragments in each injection along with other contaminants that are linked to birth defects and cancer.
According to Dr. Robert Malone, who made an appearance this week at an "Injuries Caused by COVID-19 Vaccines" hearing led by Congresswoman Marjorie Taylor Greene (R-GA),
Moderna's own patent shows that its Wuhan coronavirus (COVID-19) "vaccine" vials contain billions of DNA fragments and other contaminants linked to birth defects and cancer.
Moderna ADMITS That DNA Contamination Can Lead to Cancer
• Moderna has a patent that acknowledges RNA is preferable to DNA in vaccines due to risks of insertional mutagenesis, which might activate oncogenes or inhibit tumor suppressor genes, Dr. @RWMaloneMD explained.
"Moderna has a patent on the use of RNA for vaccines," Dr. Malone stated. "And in that, Moderna explicitly acknowledges that RNA is superior to DNA for vaccine purposes because problems, including the possibility of insertional mutagenesis that could lead to the activation of oncogenes or the inactivation of tumor suppressor genes."
"FDA says they're not aware of any concerns, but Moderna in its own patent lays out exactly the same concerns that exist about DNA in insertional mutagenesis and genotoxicity. So, Moderna knows it – DNA is a contaminant.
It is left in because the way they make it … they use DNA to make RNA, and then they degrade the DNA, and then they have to purify the degraded DNA away from the RNA, and the process they are using is apparently not that good," Malone added.
What A Surprise: Big Pharma CEO Says A 4th COVID Shot Will Be Needed
Scientists from the United States and Canada were able to get their hands on unopened vials of Moderna's COVID jab, with a clear chain of custody, and sampled them. This is their expertise, just to be clear: they do deep sequencing on samples and relay their findings for the public good.
What they discovered were large numbers of DNA fragments in the RNA preparation, to which they applied standard reconstruction tools to see what the circular plasmid DNAs looked like – none of this was disclosed to the public, by the way. -Natural News
The documentation suggests that there are certain DNA sequences present in the vials that are normally not allowed in anything that is going to go into humans, "not the least of which is an antibiotic resistance gene," Dr. Malone explained.
"They include these sequences from Simian Virus 40 – not the whole virus, but highly active promoter sequences – which is exactly the thing that the FDA in their older regulations said must be avoided because it confers even more risk for insertional mutagenesis."
Pfizer is just as bad. As it turns out, Pfizer's mRNA injection for COVID contains the same contaminants. Documentation was provided by the company to regulators in the U.S., Europe, and Canada.
These regulators actually deleted the little notation about SV40 sequences in an apparent attempt to hide it from the public, according to a report by Natual News.
"The FDA didn't take the raw DNA sequences, reconstruct those plasmid maps, and look at them themselves," Dr. Malone clarified. "They just took for granted what Pfizer had given them. And now this is all coming out because of what these researchers found."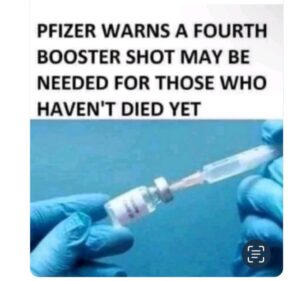 These shots have already been shown to be anything but effective, and now we are getting a lot of evidence that they aren't safe either.
By Mac Slavo
The opinions expressed by contributors and/or content partners are their own and do not necessarily reflect the views of AC.NEWS
Disclaimer: This article may contain statements that reflect the opinion of the author. The contents of this article are of sole responsibility of the author(s). AC.News will not be responsible for any inaccurate or incorrect statement in this article www.ac.news websites contain copyrighted material the use of which has not always been specifically authorized by the copyright owner. We are making such material available to our readers under the provisions of "fair use" in an effort to advance a better understanding of political, health, economic and social issues. The material on this site is distributed without profit to those who have expressed a prior interest in receiving it for research and educational purposes. If you wish to use copyrighted material for purposes other than "fair use" you must request permission from the copyright owner. Reprinting this article: Non-commercial use OK. If you wish to use copyrighted material for purposes other than "fair use" you must request permission from the copyright owner.
Disclaimer: The information and opinions shared are for informational purposes only including, but not limited to, text, graphics, images and other material are not intended as medical advice or instruction. Nothing mentioned is intended to be a substitute for professional medical advice, diagnosis or treatment.