RUSSIA/EU: With all eyes on the situation unfolding at the Ukraine border – as separatists in Donbas reporting intensified shelling amid a "general mobilization" of military-age males – Germany's left-leaning Spiegel asks a question fundamental to the entire conflict…
The essence of the argument is this; In September 1993, Russian President Boris Yeltsin penned a long letter to US President Bill Clinton, which railed against the eastward expansion of NATO at a time when Poland, Hungary and the Czech Republic were interested in joining the organization. Yeltsin argued that the Russian public saw this "as a sort of neo-isolation" of Russia, and that the "Two Plus Four Treaty" linked to Germany's 1990 reunification "precludes the option of expanding the NATO zone into the East."
As Spiegel writes, "There is essentially no other historical issue that has poisoned relations between Moscow and the West as much in the last three decades as the disagreement over what, precisely, was agreed to in 1990."
Since the 1990 letter, NATO has accepted 14 countries in Eastern and Southeastern Europe, which the Kremlin has complained of haaving been duped every step of the way."
According to current Russian President Vladimir Putin, "You cheated us shamelessly."
"You promised us in the 1990s that (NATO) would not move an inch to the East," he said late last month in comments used to justify his current demands for written guarantees that Ukraine will never be accepted into the Western alliance.
But that's not all. At the end of January, Russian Foreign Minister Sergei Lavrov wrote an open letter to his Western counterparts in which he cited additional understandings. In particular, he focused on the Charter for European Security, rooted in agreements reached in 1990. East and West had concurred at the time that every country has a right to freely choose the alliance it wished to be part of, while also emphasizing the "indivisibility of security." Later, that became "the obligation of each State not to strengthen its security at the expense of the security of other States," as Lavrov explicitly mentions in his letter. -Spiegel
Post-1990 NATO expansion isn't black-and-white though, according to Spiegel – and is muddied by a chorus of 'he-said-she-said' between prominent officials from the early 1990s.
There is no lack of accounts from a variety of witnesses to the various discussions between the West and Moscow following the fall of the Berlin Wall. In 1990, a veritable army of politicians and high-ranking officials from Moscow, Washington, Paris, London, Bonn and East Berlin met for discussions on German reunification, on the disarmament of both NATO and the Warsaw Pact, and on a new charter for the Conference on Security and Cooperation in Europe (CSCE) – which became the Organization for Security and Cooperation in Europe (OSCE) in 1995. -Spiegel
For example – former French foreign minister, Roland Dumas, said that a pledge was made that NATO troops wouldn't advanced closer to the former Soviet Union's territory. Former US Secretary of State James Baker denied it – saying no such promise was ever made. Yet, several diplomats under Baker have contradicted him.
Former US ambassador to Moscow, Jack Matlock, has said that "categorical assurances" were given to the Soviet Union that NATO wouldn't continue expanding eastward.
Meanwhile, the Soviet Union's last leader, Mikhail Gorbachev, said on one occasion that German Chancellor Helmut Kohl had made assurances that NATO "will not move one centimeter further east." Another time, Gorbachev said that "the topic of NATO expansion was never discussed," while saying that the West had violated the spirit of various agreements regardless.
What's more, US government documents declassified in 2017 appear to confirm that assurances were given.
Luckily, there are plenty of documents available from the various countries that took part in the talks, including memos from conversations, negotiation transcripts and reports. According to those documents, the U.S., the UK and Germany signaled to the Kremlin that a NATO membership of countries like Poland, Hungary and the Czech Republic was out of the question. In March 1991, British Prime Minister John Major promised during a visit to Moscow that "nothing of the sort will happen." Yeltsin expressed significant displeasure when the step was ultimately taken. He gave his approval for NATO's eastward expansion in 1997, but complained that he was only doing so because the West had forced him to. -Spiegel
Der Spiegel also published a document on Friday from March 1991 which shows US, French, UK and German officials discussing the pledge not to expand to Poland and beyond. The document contains multiple references to "2+4" talks regarding German unification – which makes clear that NATO would not expand east of Germany.
The document was found in the UK National Archives by Boston University political science professor, Josh Shifrinson.
Honored to work with @derspiegel's Klaus Wiegrefe in drawing attention to British documents (cc: @UkNatArchives) from 1990-1991 showing senior Western diplomats believed they had indeed made a NATO non-enlargement pledge. Link below:https://t.co/hep8aCKRrM

— Josh Shifrinson (@shifrinson) February 18, 2022
"We made it clear to the Soviet Union – in the 2+4 talks, as well as in other negotiations – that we do not intend to benefit from the withdrawal of Soviet troops from Eastern Europe," reads the document, citing US Assistant Secretary of State for Europe and Canada, Raymond Seitz.
"NATO should not expand to the east, either officially or unofficially," he added.
A UK official mentioned the existence of a "general agreement" which held NATO membership for eastern European countries as "unacceptable."
"We had made it clear during the 2+4 negotiations that we would not extend NATO beyond the Elbe [sic]," according to West German diplomat Juergen Hrobog. "We could not therefore offer Poland and others membership in NATO."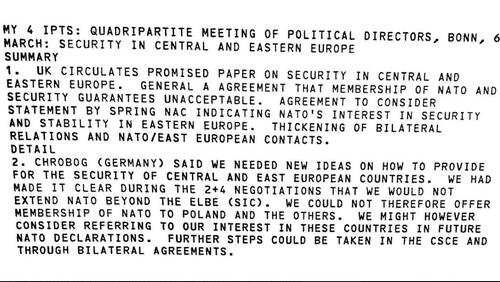 Der Spiegel also notes a January 1990 initiative from German Foreign Minister Hans-Dietrich Genscher, who said in a Jan. 31, 1990 speech that NATO should issue a statement saying: "Whatever happens to the Warsaw Pact, there will be no expansion of NATO territory to the east and closer to the borders of the Soviet Union."
Genscher's American counterpart, James Baker, said he "wasn't exactly elated" at the idea, but admitted it was "the best we had at the moment."
In early February, Genscher and Baker presented the idea in Moscow independently of one another. The German foreign minister assured the Kremlin that: "For us, it is a certainty that NATO will not expand to the east. And that applies generally," clearly meaning beyond just East Germany. The American, for his part, offered "ironclad guarantees that NATO's jurisdiction or forces would not move eastward." When Gorbachev said that NATO expansion was "unacceptable," Baker responded: "We agree with that." -Spiegel
Baker and Genscher have since downplayed the events, with Baker saying that his exclusive focus had been on Germany, and Genscher later saying he wanted to simply "gauge" the Soviet response.
The message was clear. If Gorbachev were to provide his acquiescence for German reunification within NATO, the West would aim at establishing a Western security architecture that took Moscow's interests into account.

Informal assurances were not unusual during the Cold War. U.S. political scientist Joshua Shifrinson compares the 1990 discussions with the verbal agreements made between the Americans and Soviets that led to the easing of the Cuban Missile Crisis in 1962.

…

Given the documents available, some even speculate that the West intentionally misled the Soviets from the very beginning. A few weeks after his trip to the Kremlin, in any case, Baker expressly told Genscher that some Eastern European countries were eager to join NATO, engendering Genscher's response that the issue "shouldn't be touched for now." A formulation which kept all options on the table for later. -Spiegel
NATO Secretary General Jens Stoltenberg, however, said that the alliance "has never promised not to expand," and told Spiegel that "there has never been such a promise, there has never been such a behind-the-scenes deal, it is simply not true."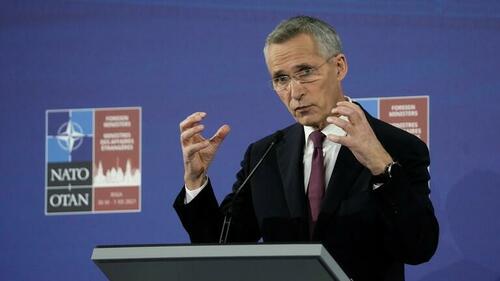 Poland, Hungary and the Czech Republic were admitted into NATO in 1999, right before launching an air war against Yugoslavia which put NATO forces along the Russian border for the first time.
In 2004, the former Soviet republics of Latvia, Lithuania and Estonia joined the Organization, putting NATO even closer to Russian assets.
Now, Russia is demanding that NATO publicly renounce expansion into the former Soviet Republics of Georgia and Ukraine, and recall US forces to the 1997 boundaries of the bloc.
The US and NATO have told Putin to pound sand, and that NATO's "open door" policy is fundamental.
Which brings us to today. Ukraine wants to join NATO, while the threat implied by the buildup of Russian forces at the border couldn't couldn't be more clear: call it off or we're taking Kiev.
by Tyler Durden
The opinions expressed by contributors and/or content partners are their own and do not necessarily reflect the views of AC.NEWS
Disclaimer: This article may contain statements that reflect the opinion of the author. The contents of this article are of sole responsibility of the author(s). AC.News will not be responsible for any inaccurate or incorrect statement in this article www.ac.news websites contain copyrighted material the use of which has not always been specifically authorized by the copyright owner. We are making such material available to our readers under the provisions of "fair use" in an effort to advance a better understanding of political, health, economic and social issues. The material on this site is distributed without profit to those who have expressed a prior interest in receiving it for research and educational purposes. If you wish to use copyrighted material for purposes other than "fair use" you must request permission from the copyright owner. Reprinting this article: Non-commercial use OK. If you wish to use copyrighted material for purposes other than "fair use" you must request permission from the copyright owner.
Disclaimer: The information and opinions shared are for informational purposes only including, but not limited to, text, graphics, images and other material are not intended as medical advice or instruction. Nothing mentioned is intended to be a substitute for professional medical advice, diagnosis or treatment.